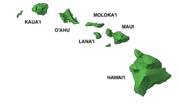 CORE VALUES
Cub Scout Roundtable Leaders' Guide
Some of the purposes of Cub Scouting developed through this month's theme are:
Family Understanding, Ohana means family. Family members are important in the role they play in helping the Cub Scout complete his advancements.
Fun and Adventure, Boys will enjoy learning about and exploring Hawaii while having fun preparing for the luau.
Respectful Relationships, Cub Scouts will learn about Hawaiian culture and the value of diversity.
The core value highlighted this month is:
Honesty, Boys will learn that honesty is a form of honor, which is an important value among the Hawaiian people.
Can you think of others??? Hint – look in your Cub Scout Program Helps. It lists different ones!! All the items on both lists are applicable!! You could probably list all twelve if you thought about it!!
COMMISSIONER'S CORNER
This month was the opposite of "Cubs in Shining Armor." That theme has been used 11 times. The depth of material available is awesome. This being only the second time for Hawaii, there is not much out there to pull from. But thanks to the good work of the CS Program Helps and the CS RT Planning Guide Task Forces there will be more good stuff next time.
So be sure to check your Cub Scout Program Helps for ideas. If you do not have a copy, it's available on line at:
http://www.scouting.org/cubscouts/resources/34304/index.jsp
Also, your RT Commissioner has great theme related ideas from the CS RT Planning Guide.
Just in time for your Blue and Gold Dinners, there is a timely tip from Bill Smith, the Roundtable Guy, on ceremonies this month. I beg to please avoid the classic flag ceremony I have seen at a few too many Blue and Gold Dinners. It starts with the Cubmaster saying to the Assistant Cubmaster, "Quick grab four scouts and send them to the back of the room with the flags and I'll call them forward."

National makes a patch for every Cub Scout Monthly theme.
Unfortunately the 2007 patches were not yet posted on www.scoutstuff.orgwhen I was preparing this month's issue. At Scout Stuff, you can go to uniforms and insignia, them emblems, and look for 2007 Cub Scout Monthly Theme Emblems.
Important Dates in February
Baltimore Area Council
2nd Ground Hog Day
4th Scout Sunday
8th Cub Scouts 77th Anniversary
10th Scout Sabbath
12th Abraham Lincoln's Birthday (fly flag)
14th Valentine's Day
15th Susan B. Anthony's Birthday
19th George Washington's Birthday (fly flag)
21st Ash Wednesday (Yes, it's early this year. Easter is April 8, 2007)