March 2006 Cub Scout Roundtable Issue

Volume 13, Issue 8
April 2007 Theme

Theme: Cub Cafe
Webelos: Family Membe & Sportsman
Tiger Cub Activities
FOCUS & CORE VALUES
Cub Scout Roundtable Leaders' Guide
Refreshments will be served!!! This month we take notice that food is a part of life. Wherever we go or whatever we celebrate, food is involved. In today's world it is important for us to teach our boys how to eat a healthy diet and why we need to eat – healthfully. There are many ways to do this, and we will explore alternative snacks and desserts along with recipes for low-fat and sugar-free cooking. We adults, too, need to set a good example!!
CORE VALUES
Cub Scout Roundtable Leaders' Guide
Some of the purposes of Cub Scouting developed through this month's theme are:
Personal Achievement, Boys will feel a sense of accomplishment as they learn to do basic meal planning and preparation.
Friendly Service, Boys will deliver friendly service to the community by conducting a food drive of nutritious foods for the community, and, perhaps, hosting a real Cub Café for local senior citizens or another group.
Fun and Adventure, Cub Scouts will become adventurous this month by tasting foods (fruits and vegetables) that they haven't tried before.
The core value highlighted this month is:
Health and Fitness, Cub Scouts will learn that it is important and easy to eat a healthy diet and how a fitness program can be part of their daily routine.
Can you think of others??? I like "Preparation for Boy Scouts" where they do all their own meal planning for camping trips. Hint – look in your Cub Scout Program Helps. It lists different ones!! All the items on both lists are applicable!! You could probably list all twelve if you thought about it!!
COMMISSIONER'S CORNER
Many Thanks to Gary Hendra, the President of USSCouts.org and The MacScouter for compiling Baloo last month. And to Russ of the Timucua District of North Florida council, this month for sending me his Roundtable Handout. Without it Baloo would have been even later.
Cub Café highlights good nutrition, so food will be highlighted this month. Be sure to check with all participants and parents about food allergies, and don't include foods anyone is allergic to. In particular, be careful about using nuts.

Last month was a disaster and this was even worse. There is this new to me job with an hour commute and a bunch of other stuff. But excuses do not help our Cubs (or Boy Scouts or Venturers). Baloo is commitment I made several years ago and it will get done on time. I figure I have worn out your patience by now. Sorry.
And it should be getting easier as I get more and more Pow Wow Books. This month I received Trapper Trails, Three fires, and Santa Clara County Council. I liked the looks of Trapper Trails but my Adobe.pdf to Word.doc program was having a problem converting the files. We will see what next month brings.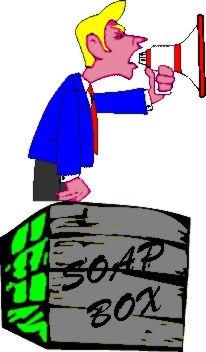 Well, it's time for me to get in my favorite soapbox, again. It is Blue and gold and FOS season. I am rerunning Sean Scott's article on "Are you a Ziploc pack?" I have been to a bunch of B&G's this year and could begin to feel that I am whistling in the wind about advancement ceremonies, cheers, and pack spirit in general.
The first B&G I attended, no ceremony, no songs. A few cheers lead by Den Chiefs. No real enthusiasm for the fun stuff by the CM. The next pack did ziploc'd all the awards except the ranks. They presented belt loops, pin, arrow points and such together. Where is the fun? Then paused and gave the rank awards as something more special. The Bear Den Leader in that pack was great and had a good show for his presentations. One other pack, I could not get the CM to do cheers and songs with me. No parents brought up for awards. Boys huddled around the awards table with their backs to the audience. The pack lasted only as long as the awards. Each den came forward, talked about what they did that month (That is a good thing but no one had the crafts they had built, or props). Once all awards were given out, meeting over – no skits, no game, no fun time. No wonder they were talking about their attendance is down. Sometimes I wonder why I still do RTs. Is anybody listening??
Then there is the ever classic Cub Scout flag ceremony –
CM (to CA or DL) Quick grab two (or three or four) Cubs get them in the back with the flags and send them forward when I call for the colors.
Followed by CM doing everything – Post, Salute, Pledge of Allegiance, Two, Cub Scout Promise … . Boys standing there (usually hands in their pockets) looking dazed having no idea what they are doing or why all this protocol. Again, there are ceremonies every month at RT and in Baloo. Maybe I should cut them out and shorten RT and Baloo.
Read Sean's article, laugh as you read it, and then make sure your Pack does it correctly!!

Scout Roundtable Podcast
http://scoutroundtable.wordpress.com
I was guest a few weeks ago on The Scout Roundtable Podcast. Cubmaster Chris from Texas and Mr. Bob from Missouri do a great job. The show is patterned to be like the parking lot discussions we all have after RT and after other Scout meetings. Our topic was internet resources. We all talked about our favorite websites. Check them out. They have 9 podcasts posted. And both Cubmaster Chris and Mr. Bob have their own individual podcasts, too, to help Scouters.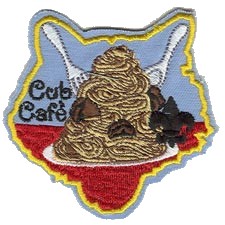 Every month National puts out a Cub Scout theme related patch. Here is this month's patch. Check them out at
www.scoutstuff.org
Months with similar themes to
Cub Café
Dave D. in Illinois
| | | |
| --- | --- | --- |
| Month Name | Year | Theme |
| July | 1948 | Cub Scout Chefs |
| April | 1952 | Things that Grow |
| July | 1969 | Cub Scout Chefs |
| May | 1973 | Things that Grow |
| July | 1973 | Cub Scout Chefs |
| May | 1978 | Growing Food |
| July | 1978 | Come get it |
| May | 1982 | Things that Grow |
| June | 1987 | Come and Get It |
| March | 2000 | Cub Grub |
| December | 2004 | Holiday Food Fare |

Materials found in Baloo's Bugle may be used by Scouters for Scouting activities provided that Baloo's Bugle and the original contributors are cited as the source of the material.

Materials found at the U. S. Scouting Service Project, Inc. Website ©1997-2006 may be reproduced and used locally by Scouting volunteers for training purposes consistent with the programs of the Boy Scouts of America (BSA) or other Scouting and Guiding Organizations. No material found here may be used or reproduced for electronic redistribution or for commercial or other non-Scouting purposes without the express permission of the U. S. Scouting Service Project, Inc. (USSSP) or other copyright holders. USSSP is not affiliated with BSA and does not speak on behalf of BSA. Opinions expressed on these web pages are those of the web authors.