FOCUS
Cub Scout Roundtable Leaders' Guide
Spring is just around the corner!! With spring comes all the wonders of nature's rebirth – flowers bloom, trees bud, birds are full of activity. In every tree, we can see Our Feathered Friends busily building nests and hear them sharing their sings with the world. Use this time of year to help your Cub Scouts discover everything the Our Feathered Friends have to share. Learn about the birds in your area, also discover species that live in other parts of the world. Go outdoors with your Cub Scouts and look around to observe all the glories of birds.
CORE VALUES
Cub Scout Roundtable Leaders' Guide
Some of the purposes of Cub Scouting developed through this month's theme are:
Spiritual Growth, Boys will experience the wonders of nature.
Personal Achievement, Boys will feel a sense of accomplishment as they learn about birds and complete badge requirements.
Fun and Adventure, Learn about birds, their habitats and how they help our environment.
The core value highlighted this month is:
Compassion, Cub Scouts learn to be considerate and concerned for the well-being of others by learning about birds and how they contribute to nature.
Can you think of others??? Hint – look in your Cub Scout Program Helps. It lists different ones!! All the items on both lists are applicable!! You could probably list all twelve if you thought about it!!
COMMISSIONER'S CORNER
Springtime – Get them outside!! The time for indoor meetings is over. Start getting them out looking for birds. Looking for buds on trees and plants. (Maybe not in Marquette, MI, yet where my former DE grew up but in most places). Play Tag, Hide and Seek, do relay races in your yard. Look for nests and birds. Find a birding club to help you. The NJ Audubon Society has programs for all ages. Find your local Audubon Society on the web and ask them!! Check out the websites in the back. The names tell you they have lots of outdoor activities for your Cubs!!
Pow Wow Books – My collection of current Pow Wow CDs sis growing rapidly. Thank you all so much!! If you sent me one and have not received a Commissioner Dave CD in trade, please E-mail me. I received the new San Gabriel Valley – Long Beach Area-Verdugo Hills CD and it appears to be another masterpiece. Thank you Julie. And a Big Heap How to Julie as she is receiving the Silver Beaver!!
It is amazing as I go through the CDs. Some like SG-VH-LBA's, Baltimore's and Sam Houston's show so much work and careful editing. And others appear to be thrown together quickly. I received one last year with themes from a different year!! And one this year with articles and items OCR scanned but not proof read. Typos everywhere – 1's that should be I's, misspellings with odd symbols in place of letters and repeated items (probably scanned two old Pow Wow Books and put them both into one without checking). Think about it. - After the Pow Wow is over the participants only have two things – their memories and the CD. If they like the CD and can use it easily, it will help sell that person on returning and that person will sell others on going. If it is messy and riddled with typos and such, what will the person think about the Pow Wow after the memories fade?
Walk Thru the Bible Seminar – I attended a Walk Thru the Old Testament Seminar as part of the LCMS, NJ District's drive to increase Bible Literacy. It was fantastic!! A highly energized leader had us all up singing and shouting and making the signs for the Old Testament Books. The seminar does no philosophy, does not preach a religion. It simply takes all the pieces of the Bible you have learned over the years and puts them in order for you. .You learn when things (e.g. Joshua attacked Jericho) occurred and who was there and where they are in the Bible. If you get a chance – go and participate and bring your kids!! Check them out at www.walkthru.org . How many books in the Old Testament?? How many letters in Old? (3), Testament? (9). How many Books – 39!! I knew that because my combination lock for Boy Scout camp had a 39 in the combo and my Mother used that as part of the memory trick she taught me to remember it.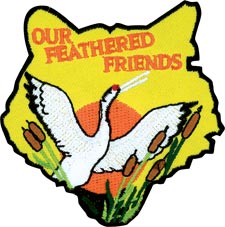 National makes a patch for every Cub Scout Monthly theme. This is the one for this theme. Check them out at www.scoutstuff.org
Months with similar themes to
Our Feathered Friends
David D. in Illinois
| | | |
| --- | --- | --- |
| Be Kind to Birds | January | 1940 |
| Cub Scout Bird Watchers | April | 1956 |
| Cub Scout Bird Watchers | May | 1986 |
| Cub Scout Bird Watchers | April | 1988 |
| Cub Scout Bird Watchers | June | 1993 |
| Cub Scout Bird Watchers | April | 1997 |
Other months with Nature Themes that have helpful material
| | | |
| --- | --- | --- |
| Nature | July | 1942 |
| Back Yard Month | July | 1943 |
| Nature | June | 1945 |
| Nature | August | 1948 |
| Nature | August | 1951 |
| Mother Nature's Backyard | May | 1953 |
| Cub Scout Beekeepers | October | 1955 |
| Cub Scout Naturalist | September | 1956 |
| Mother Nature's Back Yard | July | 1959 |
| Cub Scout Naturalists | April | 1964 |
| Mother Natures Backyard | April | 1966 |
| Mother Nature's Backyard | May | 1970 |
| Growing, Flying, Crawling | May | 1971 |
| Cub Scout Naturalists | April | 1975 |
| Bugs & Things | April | 1984 |
| Back to Nature | August | 1987 |
| Bugs and Things | May | 1992 |
| Bugs `n Things | June | 1995 |
| Bugs & Things | April | 2000 |