September 2006 Cub Scout Roundtable Issue

Volume 13, Issue 2
October 2006 Theme

Theme: Cub Scout Shipbuilders
Webelos: Citizen & Showman
Tiger Cub Activities
FOCUS
Cub Scout Roundtable Leaders' Guide
Ahoy!! This is the month for sailing all kinds of ships and setting sail into the sea of Cub Scouting. Besides learning how to tie knots , we will set sail on adventurous journeys, and take a trip down the raingutter at the boy-powered raingutter regatta.
CORE VALUES
Cub Scout Roundtable Leaders' Guide
Some of the purposes of Cub Scouting developed through this month's theme are:
Fun and Achievement, Cub Scouts will lean about the many ships that played an important part in the forming of our country and will have fun building their own sailboat for the raingutter regatta.
Personal Achievement, Boys will feel pride in learning how to tie any of the knots and sailing their boat to the finish line in the raingutter regatta.
Preparation for Boy Scouts, Learning how to tie some knots prepares the boys and makes them eager to join a Boy Scout troop.
The core value highlighted this month is:
Faith, Boys will learn to believe in themselves and trust in a supreme being.
Can you think of others??? Hint – look in your Cub Scout Program Helps. It lists different ones!! All the items on both lists are applicable!! You could probably list all twelve if you thought about it!!
COMMISSIONER'S CORNER
And another year is underway. My Roundtable's Annual Planning meeting was August 9 before our summer RT kickoff. My former Pack's Annual Planning Meeting was today at a local swim club. I hope you have had your planning meetings and are ready to go!!
Lots of new stuff –
Tigers to get Bobcat before they earn their Tiger Rank
New Centennial Quality Awards for 2007 and through 2010. I will be writing about these next month. I met the director of the division that put this award program together this summer at the Philmont Training Center. They sound really good for the program and your units.
Character Connections now recognized as the eighth method of Cub Scouting
Pow Wow Books needed – The majority of my Pow Wow Books only go through November. So if you have a November Pow Wow and can get me your Cd quickly, I would appreciate it. Otherwise, I could run out of material!!
2006-2007 Themes – I received a request for a list of themes for this year. You can find a complete list of this year's and next year's in the yellow planning pages of your CS Program Helps. And we will soon have one on our site under Cub Scout Leader's Pow-Wow Midwaylink
Many thanks to Carol of American Elm District of Black Swamp Council for putting together last month's Baloo's Bugle while I was off to Webelos Resident camp and two weeks at the Philmont Training Center (with my arm in a cast). Typing was a real chore lefty! Cast is off and therapy begun. I had the right bicep brachii tendon come off the bump on the radius where it was attached and had to have surgery to restore it.
Months with similar themes to
Cub Scout Shipbuilders
Dave D. in Illinois
| | | |
| --- | --- | --- |
| July | 1941 | Things That Go |
| April | 1945 | Transportation |
| August | 1947 | Things That Go Month |
| July | 1951 | Things That Go |
| January | 1953 | Transportation |
| June | 1955 | Wheels Wings and Rudders |
| July | 1961 | Harbors, Stations, Airports |
| June | 1963 | Things that Go |
| January | 1966 | Transportation |
| June | 1969 | Things that Go |
| November | 1972 | Things That Go |
| January | 1974 | Transportation |
| May | 1975 | Things that Go |
| July | 1980 | Things that Go |
| May | 1989 | Wheels, Wings & Rudders |
| August | 1990 | Harbors, Stations & Airports |
| March | 1992 | Things that Go |
| November | 1994 | Harbors, Stations & Airports |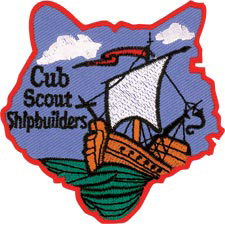 National makes a patch for every Cub Scout Monthly theme. This is the one for this theme. Check them out at www.scoutstuff.org go to patches and look for 2006 Cub Scout Monthly Theme Emblems Cub Scout Shipbuilders.

Materials found in Baloo's Bugle may be used by Scouters for Scouting activities provided that Baloo's Bugle and the original contributors are cited as the source of the material.

Materials found at the U. S. Scouting Service Project, Inc. Website ©1997-2006 may be reproduced and used locally by Scouting volunteers for training purposes consistent with the programs of the Boy Scouts of America (BSA) or other Scouting and Guiding Organizations. No material found here may be used or reproduced for electronic redistribution or for commercial or other non-Scouting purposes without the express permission of the U. S. Scouting Service Project, Inc. (USSSP) or other copyright holders. USSSP is not affiliated with BSA and does not speak on behalf of BSA. Opinions expressed on these web pages are those of the web authors.