November 2006 Cub Scout Roundtable Issue

Volume 13, Issue 4
December 2006 Theme

Theme: Cub Scout Stars
Webelos: Craftsman & Scientist
Tiger Cub Activities
FOCUS
Cub Scout Roundtable Leaders' Guide
See the lights in the night sky and marvel!! Cub Scouts this month enjoy a look upward to the stars. They can spot the animals, people, and imaginary creatures of the constellations, and the powerful light cast off by objects far, far away. This month's theme brings the stars closer to home with activities and fun.
CORE VALUES
Cub Scout Roundtable Leaders' Guide
Some of the purposes of Cub Scouting developed through this month's theme are:
Spiritual Growth, Taking time to ponder the heavens makes a boy aware of the universe around him.
Fun and Adventure, Boys can spot constellations and learn stories about them..
Preparation for Boy Scouts, This month' s theme opens a doorway preparing boys to later earn the Astronomy and Space Exploration Merit Badges.
The core value highlighted this month is:
Responsibility, It is every Cub Scouts responsibility to care for others and himself. December is a good month for discussion of caring.
Can you think of others??? Hint – look in your Cub Scout Program Helps. It lists different ones!! All the items on both lists are applicable!! You could probably list all twelve if you thought about it!!
COMMISSIONER'S CORNER
POW WOW CD's
There are a lot of Pow Wows on my list for November 4. I hope some of you can trade CDs this month so I can have some good info for the next Baloo. Just write me, either commissionerdave@comcast.net , or via www.usscouts.org website and I will get you mailing info. Last year I received the Alapaha Area Council Book via E-mail. That works, too. It was a very useful book set up by monthly themes. I hope they send it again.
Well another great month has flown by and I did some flying – we flew out to Los Angeles so my daughter could visit Loma Linda University and learn about their Doctor of Physical Therapy program. It was a great, fast weekend and one of the reasons (excuses?) Baloo is late as usual. While I was setting up the trip, through a long series of events (that could only have been arranged by God to help me) I learned that a "boy" who was in my Mother's Den with me and my patrol in Boy Scouts is a Doctor at the Medical Center operated by Loma Linda. So Don and I got together for the first time in 39 years!!
Don has the letters FASAM after his MD. That means he is a Fellow in the American Society of Addiction Medicine. He says he went into this field after starting in Emergency Medicine because he wanted to put a sign at the top of the waterfall to keep people (addicts) from going over the cliff. Isn't that what we as Scout Leaders are trying to do? – Keep our sons and others boys on the correct path and not going off the cliff?? I told him how we usually talk about how it is easier to bend the sapling to get it to grow how you want rather than try and reroute the old oak tree. Just a thought for you to ponder – that we are at the top of a waterfall helping our Scouts make the right decision and not go off the edge.
Although it is theme-related, this month there is a great item on Neckerchief Slides from the San Gabriel Valley, Long Beach and Verdugo Hills Councils Pow Wow Book. Be sure to file this somewhere where you can easily find it.
Also, look for the items on BSA's On-Line Learning Center, http://www.olc.scouting.org/ , and the National Centennial Awards.
Months with similar themes to Cub Scout Stars
Dave D. in Illinois
| | | |
| --- | --- | --- |
| Sky Adventure | May | 1940 |
| Eyes in the Sky | January | 1957 |
| Lights in the Sky | January | 1971 |
| Lights in the Sky | May | 1979 |
| Adventures in the Sky | June | 1998 |
If you are looking for December Holiday (Christmas, Hanukah, Kwanzaa) ideas for your Den, just check any December back issue of Baloo. CD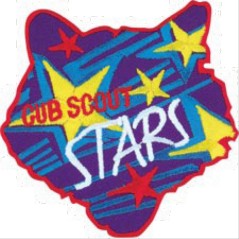 National makes a patch for every Cub Scout Monthly theme.
This is the one for this theme. Check them out at www.scoutstuff.orggo to uniforms and insignia, them emblems, and look for 2006 Cub Scout Monthly Theme Emblems.

Materials found in Baloo's Bugle may be used by Scouters for Scouting activities provided that Baloo's Bugle and the original contributors are cited as the source of the material.

Materials found at the U. S. Scouting Service Project, Inc. Website ©1997-2006 may be reproduced and used locally by Scouting volunteers for training purposes consistent with the programs of the Boy Scouts of America (BSA) or other Scouting and Guiding Organizations. No material found here may be used or reproduced for electronic redistribution or for commercial or other non-Scouting purposes without the express permission of the U. S. Scouting Service Project, Inc. (USSSP) or other copyright holders. USSSP is not affiliated with BSA and does not speak on behalf of BSA. Opinions expressed on these web pages are those of the web authors.