May 2007 Cub Scout Roundtable Issue

Volume 13, Issue 10
June 2007 Theme

Theme: Wheel Into Summer
Webelos: Traveler & Handyman
Tiger Cub Activities
FOCUS & CORE VALUES
Cub Scout Roundtable Leaders' Guide
What would we do if the wheel had never been invented?? We would not have bicycle, skateboards, scooters, roller skates and roller blades for fun and exercise. Since we have the wheel, it is time to go outside and have a "wheely" great time. This month your den or pack can host a bicycle rodeo and fulfill requirements for the Bicycling Belt Loop and Pin. There is also the roller Skating Belt Loop and Pin for additional den and pack activities. There is lots of outdoor fun this month!!
CORE VALUES
Cub Scout Roundtable Leaders' Guide
Some of the purposes of Cub Scouting developed through this month's theme are:
Personal Achievement, Boys will feel real satisfaction when learning to ride their bikes, roller skates, or scooters
Sportsmanship and Fitness, Boys will practice good sportsmanship while taking part in outdoor games.
Fun and Adventure, Cub Scouts will experience the delight in playing outdoors.
The core value highlighted this month is:
Respect, Boys will learn to value themselves and others as they participate in the "wheels" events this month.
Can you think of others??? Hint – look in your Cub Scout Program Helps. It lists different ones!! All the items on both lists are applicable!! You could probably list all twelve if you thought about it!!
COMMISSIONER'S CORNER
Where do I begin? Does it really matter?? I changed employers to help slow global warming. I now only go 12 miles each way and car pool. I was going 67 plus and driving myself!! Our council had a camporall – a council wide encampment and my son and I had a Whittlin' Chip both for Cubs. We gave out and cut up over 100 bars of Ivory soap. By the way – the best site I found for soap carving www.ivory.com !!!
It was late in the month when I got to start Baloo and was a little depressed until I opened all the stuff Alice had sent me. Compilation of Baloo became a lot simpler. Thank you again Alice!! She said she was busy this month, her son was elected Bishop of his ward in Utah and she was going to see him.
Now when I assembled Alice's stuff and some Pow Wow Books (Thank you all who have sent me these valuable resources) I came up with a big questions – How much safety information do I put in Baloo this month?? There certainly was a lot of it out there for bikes, scooters, skateboards, roller skates and roller blades. Many lists are similar, some different. Anyway, I put a lot in Baloo and hope I do not overwhelm you with all the safety stuff. It is scattered throughout Baloo, too. Some in Theme Stuff, some in Pack and Den Activities, and probably some elsewhere.
In answer to a few E-mails I received this month - When you see a comment in bold italics that has a "CD" after it, the CD stands for Commissioner Dave (me).
Follow Up from Last Month
Hug-A-Tree
I received several E-mails with the Official site for Hug-A-Tree. It is - http://www.nasar.org/nasar/hug_a_tree_program.php
NASAR is the acronym for the National Association for Search and Rescue website. They sponsor the Hug-A-Tree program.
Fandango correction
The Fandango skit to celebrate the end of the year is intended to be done with puppets. I omitted that fact from Baloo last month. I received a nice letter from the author of the Fandango skit (She must still be a Cub leader and a reader, thank you)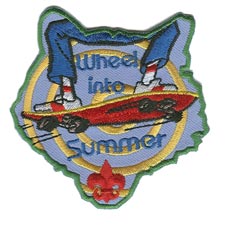 Every month National puts out a Cub Scout theme related patch. Here is this month's patch. Check them out at
www.scoutstuff.org
Months with similar themes to
Cubs and Bugs
Dave D. in Illinois
Not much specifically on this month's focus – bikes, skates, scooters, skateboards. Maybe some good stuff in the old "Things That Go" Theme material. I know they are not after railroads, "Cub Scout Express" is September 2007, or Cars, "Cub Scout Car Show is January 2008. CD
Month Name

Year

Theme

Wheels

July

1965

Cub Scouts on Wheels

June

1983

Fun on Wheels

May

1997

Reinventing the Wheel

Things That Go

July

1941

Things That Go

August

1947

Things That Go Month

July

1951

Things That Go

June

1963

Things that Go

June

1969

Things that Go

November

1972

Things That Go

May

1975

Things that Go

July

1980

Things that Go

March

1992

Things that Go

Materials found in Baloo's Bugle may be used by Scouters for Scouting activities provided that Baloo's Bugle and the original contributors are cited as the source of the material.

Materials found at the U. S. Scouting Service Project, Inc. Website ©1997-2007 may be reproduced and used locally by Scouting volunteers for training purposes consistent with the programs of the Boy Scouts of America (BSA) or other Scouting and Guiding Organizations. No material found here may be used or reproduced for electronic redistribution or for commercial or other non-Scouting purposes without the express permission of the U. S. Scouting Service Project, Inc. (USSSP) or other copyright holders. USSSP is not affiliated with BSA and does not speak on behalf of BSA. Opinions expressed on these web pages are those of the web authors.