October 2006 Cub Scout Roundtable Issue

Volume 13, Issue 3
November 2006 Theme

Theme: Cubs in Shining Armor
Webelos: Craftsman & Scientist
Tiger Cub Activities
FOCUS
Cub Scout Roundtable Leaders' Guide
Hear ye! Hear Ye! The Royal Court of the Order of (Your District Name) is now in session. This month is a time for honor, sportsmanship, and fitness and, of course, when work is done, merriment at the Royal Tournament! The highlight this month will be the knighting of our new knights. The king will give a special charge to his loyal subjects. There is much to do, much to learn, in the kingdom of Cub Scouts.
CORE VALUES
Cub Scout Roundtable Leaders' Guide
Some of the purposes of Cub Scouting developed through this month's theme are:
Spiritual Growth, Boys will see how the knights accomplished much because of their faith in a supreme being.
Character Development, Cub Scouts will learn about the Knight's Code and see how knights treated each other fairly.
Sportsmanship and Fitness, Tournament games give boys a chance to practice sportsmanship and fitness.
The core value highlighted this month is:
Cooperation, Through den and pack activities, Cub Scouts will learn that knights were able to accomplish goals by working together.
Can you think of others??? Hint – look in your Cub Scout Program Helps. It lists different ones!! All the items on both lists are applicable!! You could probably list all twelve if you thought about it!!
COMMISSIONER'S CORNER
You can always tell a good old CS Theme – lots 0f games, skits and such. Many based on classic Cub Scout program material but with the theme twists worked into them, Such is the case with Cubs in Shining Armor!!
Be sure to hold your outdoor medieval festival – lots of fitness activities and games for your Cubs. We went to the Pennsylvania Renaissance Faire last weekend. A great time reliving the days of the Knights. One booth was running an actual Cub Scout Raingutter Regatta with all the ships made to look like pirate ships.
Last month Bill smith quoted from Junkyard Sports by Bernie DeKoven. This month I received a nice letter from him and went back to his web site www.junkyardsports.com . He mentioned he has another book, The Well Played Game that may interest Scouters. The site has ideas for many games from scraps. Check it out. His sports focus on participation rather than competition (See Junkyard Golf)
Lots of new stuff –
Tigers to get Bobcat before they earn their Tiger Rank (See detailed discussion in Tiger section)
New Centennial Quality Awards for 2007 and through 2010. Looking for a good write up to put in a future issue of Baloo. I met the director of the division that put this award program together this summer at the Philmont Training Center. They sound really good for the program and your units.
Pow Wow Books needed – The majority of my Pow Wow Books only go through November. So if you have a November Pow Wow and can get me your CD quickly, I would appreciate it. Otherwise, I could run out of material!!
Months with similar themes to
Cub Scout Shipbuilders
Dave D. in Illinois
| | | |
| --- | --- | --- |
| Month | Year | Theme |
| November | 1946 | When Knighthood was in Flower |
| March | 1955 | Knights of Yore |
| January | 1962 | Knights of Yore |
| March | 1966 | Knights of the Round Table |
| January | 1970 | Knights of Yore |
| March | 1973 | Knights Of the Tournament |
| November | 1979 | Knights of Yore |
| January | 1986 | Knights of the Roundtable |
| January | 1989 | Knights in Armor |
| January | 1992 | Knights of the Roundtable |
| November | 1995 | Knights of the Roundtable |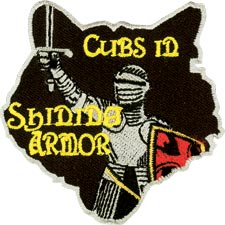 National makes a patch for every Cub Scout Monthly theme.
This is the one for this theme. Check them out at www.scoutstuff.org go to patches and look for 2006 Cub
Scout Monthly Theme Emblems Cub Scout Shipbuilders.

Materials found in Baloo's Bugle may be used by Scouters for Scouting activities provided that Baloo's Bugle and the original contributors are cited as the source of the material.

Materials found at the U. S. Scouting Service Project, Inc. Website ©1997-2006 may be reproduced and used locally by Scouting volunteers for training purposes consistent with the programs of the Boy Scouts of America (BSA) or other Scouting and Guiding Organizations. No material found here may be used or reproduced for electronic redistribution or for commercial or other non-Scouting purposes without the express permission of the U. S. Scouting Service Project, Inc. (USSSP) or other copyright holders. USSSP is not affiliated with BSA and does not speak on behalf of BSA. Opinions expressed on these web pages are those of the web authors.