FOCUS
Cub Scout Roundtable Planning Guide
Cub Scouts will get their vocal chords humming and their instruments strumming during this month's musical extravaganza!! Boys can learn to sing a new song and make a musical instrument while working on the Music Belt Loop and pin. Den meetings can be the rehearsals and the pack meetings performance time. Take your show on the road. Music is a universal language – help bring joy to everyone by sharing your music with others.
CORE VALUES
Cub Scout Roundtable Leaders' Guide
Some of the purposes of Cub Scouting developed through this month's theme are:
Personal Achievement, What a sense of accomplishment to play a song on a piano or guitar or sing a song in a loud voice.
Spiritual Growth, Boys will explore how spirituality is expressed through the music of gospels, spirituals and hymns.
Fun and Adventure, Making music together can be great fun, and exploring different types of music can be adventurous.
The core value highlighted this month is:
Honesty, Boys will see that giving their best effort is the honest thing to do.
Can you think of others??? Hint – look in your Cub Scout Program Helps. It lists different ones!! All the items on both lists are applicable!! You could probably list all twelve if you thought about it!!
COMMISSIONER'S CORNER
Let's have a blast with this theme – singing and playing music with homemade instruments. The How To Book has a bunch of homemade instrument ideas. As does the CS Program Helps. Be sure to check out The Kids Can press, "Jumbo Book of Music" www.kidscanpress.com They have plans in there for many instruments, including an instrument that looks like the thing the band leader is wearing on "Wheel of Fortune" this week while they are in New Orleans (or were before Katrina as the ads say). It's made from an old broiler pan rack. Really Neat!!!
I visited two Pow Wows this month - Baltimore Area Council and Northern NJ Council. Had a great time at both. In Baltimore my wife and I had a great time and picked up the latest edition of an always great Pow Wow Book. My wife really enjoyed the Outdoor Cooking class and has been showing me new ideas for Dutch Ovens. Also, she had fun playing Outdoor Games with the C.O.P.E. Director who lead the session. I picked up some good hints on Creative Pack Meetings and Pizzazz. In North Jersey, they had an indoor campfire right after lunch!! It was great and totally blew away that groggy feeling you usually get in that first afternoon class. The Campfire MC was fabulous; I was also in his Magic Class and his session on Space Derbies. Regardless of what he is doing, he can relate it back to Scouting lessons. Pow Wows are truly unique training sessions – you get Scouters teaching other Scouters what they like best so that the program can grow!! I told Dan that I would be back for Northern NJ's next year!!! Please help,
I need Pow Wow Books
My resources are a little low right now. Many of my Pow Wow books from last fall have run out. If your council had a Fall Pow Wow and you have a book, I will be glad to swap you copies of those I received this month for one of yours. Drop me an E-mail at commissionerdave@comcast.net and we can set it up. Thanks to Scouter Jim for my copy of Great Salt Lake's Pow Wow Book.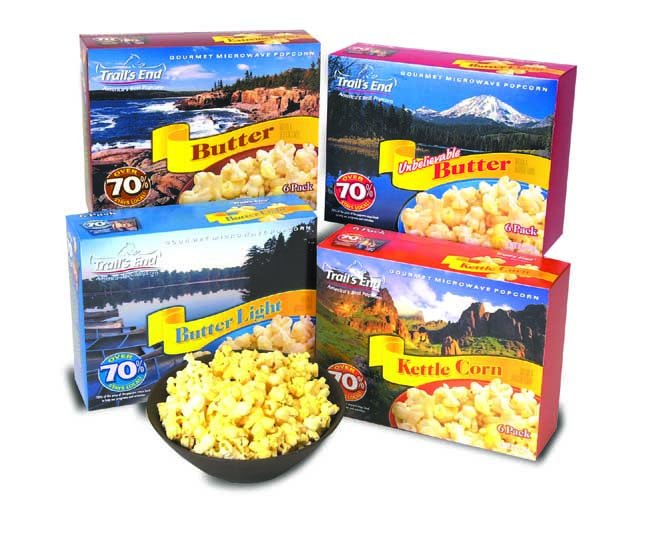 Did you sell Popcorn?
Kathleen wrote to tell me there is a story about Paul Bunyan and the Popcorn Blizzard that she was going to use with her Bears to wrap up the sale and work on "Tall Tales." She found the story in her local library (free!). I found the story listed in several books on the web.
And how about recognizing your Popcorn Kernel? Wendy made a Popcorn swagger stick for hers. She took a 3 inch Styrofoam ball and put it on a dowel, then hot glue gunned popcorn all over the ball and presented it to the Popcorn Kernel at a Pack Meeting with a big round of applause for volunteering.
Months with similar themes to
Music Magic
Thank you - Dave D in Illinois
| | | |
| --- | --- | --- |
| Music and Minstrels | January | 1941 |
| Cub Made Music | January | 1945 |
| Music and Minstrels | January | 1949 |
| Musical Hoe-down | October | 1954 |
| Homemade Opera | July | 1957 |
| Musical Hoedown | May | 1959 |
| Music Makers | January | 1973 |
| Let's make Music | April | 1980 |
| Summer Songfest | August | 2001 |
| Strike Up the Band | January | 2003 |