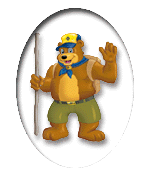 CONTACT BALOO


Write to Baloo (Click Here) to offer contributions, suggest ideas, express appreciation, or let Commissioner Dave know how you are using the materials provided here. Your feedback is import. Thanks.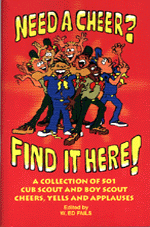 November 2005 Cub Scout Roundtable Issue

Volume 12, Issue 4
December 2005 Theme

Theme: Faith, Hope and Charity
Webelos: Craftsman & Scientist
Tiger Cub Activities
CUB GRUB
Whenever making foods with your Den, be sure to check for allergies – peanuts, gluten, food colorings, and others – before starting. This information should be documented on the physical forms the parents fill out on the back of the application to join.
Rudolph the Reindeer
Baltimore Area Council
Ingredients
¼ cup Peanut butter; creamy
2 slices Whole wheat bread
16 Raisins
4 cherries
16 Pretzels; twist style
Directions:
Spread peanut butter on bread slices and cut each slice into four triangles.
Turn triangles so point is down,
Then place two raisins in center for eyes.
Cut cherry in half and place one half at bottom point for nose.
Break twist pretzels to make antlers and place at upper two corners.
Edible Yule Log
Baltimore Area Council
Ingredients
2¼ cups graham cracker crumbs
¾ cup miniature marshmallows
1 cup chopped dates or raisins
2 cups chopped nuts
1 cup cream
Directions:
Stir together all ingredients till thoroughly mixed.
Shape into one large or several small logs.
Wrap in foil or plastic wrap; refrigerate.
Yummy Igloo
Baltimore Area Council
Ingredients
½ apple, cored
Peanut butter
Miniature marshmallows
Directions:
Place apple cut side down on a plate.
Spread with peanut butter all over the outside of the apple.
Cover peanut butter with the miniature marshmallows.
Edible Snowman
Baltimore Area Council
Ingredients
2 unfrosted cupcakes
Large marshmallow
White frosting
Coconut
Peppermint stick
Red cinnamon candies
1" Gumdrop
Directions:
Stack cupcakes with layer of frosting between.
Frost all sides except bottom.
Sprinkle with coconut.
Stack marshmallow on top with layer of frosting for head and attach red cinnamon candies for eyes, mouth, and buttons with dots of frosting.

Use a peppermint stick broken in half for arms, and a one-inch gumdrop for hat - attach with frosting.
Benne Cakes
Baltimore Area Council
Note: Benne cakes are a food from West Africa. Benne means sesame seeds. The sesame seeds are eaten for luck. This treat is still eaten in some parts of the American south.
Ingredients
oil to grease a cookie sheet
1 cup finely packed brown sugar
¼ cup butter or margarine, softened
1 egg, beaten
½ teaspoon vanilla extract
1 teaspoon freshly squeezed lemon juice
½ cup all-purpose flour
½ teaspoon baking powder
¼ teaspoon salt
1 cup toasted sesame seeds
Directions:
Preheat the oven to 325º.
Lightly oil a cookie sheet.
Mix together the brown sugar and. butter, and beat until they are creamy.
Stir in the egg, vanilla extract, and lemon juice.
Add flour, baking powder, salt, and sesame seeds.
Drop by rounded teaspoons onto the cookie sheet 2 inches apart
Bake for 15 minutes or until the edges are browned.
Enjoy!
Gingerbread Men
Baltimore Area Council
Ingredients
½ cup shortening
1 egg
½ cup brown sugar
1½ cup flour
1 pkg. instant butterscotch pudding mix
1½ teaspoon ginger
½ teaspoon cinnamon
½ teaspoon baking soda
Favorite frosting
Raisins & candies
Cookie cutter
Directions:
Mix together egg, shortening, and brown sugar.
Add remaining ingredients.
Roll out dough and cut into gingerbread men shapes with a cookie cutter.
Bake for 10 minutes at 350º.
Decorate men using favorite frosting and candies.
It's fun to make these after reading the classic tale of The Gingerbread Man. Children like this recipe because the gingerbread is sweeter and chewier than the traditional molasses cookies.
Sweet Potato Pie
San Gabriel, Long Beach Area, Verdugo Hills Councils
Ingredients:
2 cups Sweet potatoes, drained
4 T Margarine, melted
3 Eggs
1 cup Sugar
1 tsp Cinnamon
¼ tsp Grated nutmeg
¾ cup Milk
1 tsp Vanilla
1 9" pie shell, baked
¼ cup Chopped pecans
Directions:
Use a food processor or fork to mash sweet potatoes together with melted margarine.
Blend in eggs, sugar, cinnamon, and nutmeg.
Add milk and vanilla.
Pour mixture into baked pie shell.
Microwave on 70% (medium high) for 7 minutes.
Sprinkle pecans over surface of pie.
Rotating midway through cooking, microwave on 70 % (medium high) 6 to 8 minutes or until center no longer jiggles.
If you prefer, you can bake it in the oven at 375°F for about 35-45 minutes or until it doesn't jiggle.
Yield: 8 servings
Potato Latkes
San Gabriel, Long Beach Area, Verdugo Hills Councils
Ingredients:
3 Large potatoes, peeled and grated into ice water
¼ C. grated onion
¼ C. egg substitute
½ tsp. salt & pepper to taste
¼ tsp. baking powder
3 Tbsp. matza meal
Directions:
In a tea towel, squeeze excess moisture from potato.
Place in a mixing bowl with onion and egg substitute and mix well.
In a small bowl, combine dry ingredients.
Slowly add to potato mixture, beating very well.
Drop by tablespoons onto hot, lightly oiled, or vegetable oil-sprayed skillet.
Cook on one side until well browned; turn over and brown other side.
Serve with sour cream, yogurt, applesauce, or pear chutney.
Pear Chutney
San Gabriel, Long Beach Area, Verdugo Hills Councils
Ingredients:
2 cups sugar
1 ¼ cups white vinegar
¼ cup apple cider
2 oranges, diced with rind
1 lemon, diced with rind
1 lime, diced with rind
1 medium onion, diced
1 clove garlic, minced
1 cup white raisins
2 ¾ oz. crystallized ginger, diced
2 ½ lbs. pears, unpeeled and diced
Directions:
Bring sugar, vinegar and cider to a boil and
Simmer for 15 minutes.
Add all remaining ingredients and simmer for 40 minutes.
Cool; refrigerate in covered jars for as long as 6-8 weeks. Makes more than 1 quart.
Gingerbread Cookies
San Gabriel, Long Beach Area, Verdugo Hills Councils
Ingredients:
2 ¾ Cups of all-purpose flour
2 Teaspoons of cinnamon
1 Teaspoon of ginger
1 Teaspoon of baking soda
¼ Teaspoon of nutmeg
¼ Teaspoon of cloves
¼ Teaspoon of salt
¾ Cup of butter or margarine
½ Cup of sugar
½ Cup of unsulphured molasses
1 Large egg, lightly beaten
Directions:
Combine the flour, cinnamon, ginger, baking soda, nutmeg, cloves, and salt in a bowl.
Heat the butter, sugar, and molasses in a saucepan over medium heat until the butter is melted.
Remove from the heat.
Pour this into the dry ingredients; stir.
Add egg; stir until smooth.
Let stand for 10 minutes.
Divide the dough in half. While it still warm, roll each half of the dough to 1/8" thick between 2 sheets of wax paper. Refrigerate on cookie sheets at least 1 hour or overnight.
Preheat the oven to 350°F. Grease the 2 cookie sheets. Remove the wax paper and cut the dough with 2" cookie cutters.
Transfer the cutouts to the prepared cookie sheets.
Bake 8 to 10 minutes. Cool on wire racks.
Reroll the scraps and refrigerate; repeat the cutting and baking. Decorate if desired.
Popcorn Candy Cane
San Gabriel, Long Beach Area, Verdugo Hills Councils
Ingredients:
4 qt. popped corn
2 cups whole nuts
3 cups mini-marshmallows
1½ cups gumdrops
1 cup margarine
1½ cups sugar
½ cup light corn syrup
1 tsp. vanilla
Directions:
Mix popcorn, nuts, marshmallows, and gumdrops in large bowl.
Melt margarine in saucepan; add vanilla and mix well.
Pour over the popcorn mixture and mix well.
Let it stand to cool.
With hands dampened in cool water, mold popcorn mixture into candy cane shapes.
Arrange on a baking sheet to set.
Wrap each in plastic wrap and store in a cool place.
Cubs may want to help by using narrow strips of fruit roll-ups to "wrap" a stripe on the candy cane.
Hot Spiced Apple Cider
San Gabriel, Long Beach Area, Verdugo Hills Councils
Ingredients:
1 gal. Apple Cider or Apple Juice
1-9 oz bag of Cinnamon Red Hot Candy
½ cup Sugar
5 cinnamon sticks
20 to 25 Whole Cloves
1 cup Prepared Cranberry Juice
1 cup Prepared Orange Juice
Butter
Directions:
In a large pot, combine all ingredients except the butter. Over medium heat, bring to a boil.
Stir frequently until sugar and candies are dissolved.
Reduce heat and simmer for about an hour.
Before serving, place a small pat of butter in each mug.
Pour cider into mug over butter.
Add cinnamon stick and stir.
Karamu Feast Tabbouleh
San Gabriel, Long Beach Area, Verdugo Hills Councils
A high point of Kwanzaa is the Karamu or feast. Karamu foods, like this recipe, incorporate the Kwanzaa colors of black, red, and green.
Ingredients:
2 cups boiling water
1 cup bulgur wheat
1 cup fresh parsley, finely chopped
½ cup mint, finely chopped
½ pound tofu, finely chopped
2 tomatoes, finely chopped
½ cup black olives
¼ cup lemon juice
¼ cup green onion, chopped
2 Tablespoons olive oil
½ teaspoon salt
½ teaspoon black pepper
Leaf lettuce
Directions:
Pour boiling water over the bulgur wheat and soak for 1 hour.
Pour off water and drain well.
In the medium bowl combine the bulgur wheat with the remaining ingredients.
Serve with leaf lettuce.

Materials found in Baloo's Bugle may be used by Scouters for Scouting activities provided that Baloo's Bugle and the original contributors are cited as the source of the material.

Materials found at the U. S. Scouting Service Project, Inc. Website ©1997-2005 may be reproduced and used locally by Scouting volunteers for training purposes consistent with the programs of the Boy Scouts of America (BSA) or other Scouting and Guiding Organizations. No material found here may be used or reproduced for electronic redistribution or for commercial or other non-Scouting purposes without the express permission of the U. S. Scouting Service Project, Inc. (USSSP) or other copyright holders. USSSP is not affiliated with BSA and does not speak on behalf of BSA. Opinions expressed on these web pages are those of the web authors.