GATHERING ACTIVITIES
Note on Word Searches, Word Games, Mazes, and such – In order to make these items fit in the two-column format of Baloo's Bugle they are shrunk to a width of about 3 inches. Your Cubs probably need bigger pictures. You can get these by copying and pasting the picture from the Word version or clipping the picture in the Adobe (.pdf) version and then enlarging to page width. CD
Good Will Word Search
Piedmont Area Council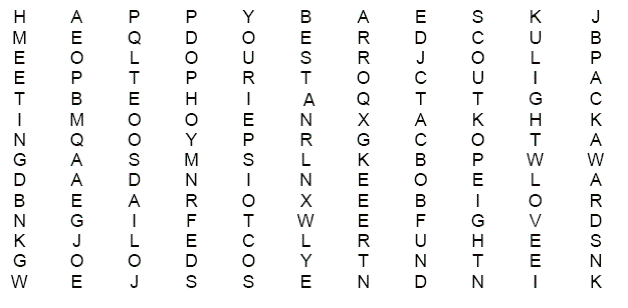 mom best kindness
happy arrow cub
fun of scout
meeting light snow
dad gift boys
wolf pack bobcat
Webelos helping den
tree other awards
do people ox
your nine send
Star Tracing
Baltimore Area Council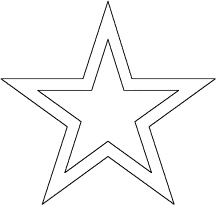 Duplicate a number of double stars, the outer one being about 6 inches from point to point, and the inner one smaller, as illustrated. The Object is to draw a third star between the lines of the inner and outer stars while shielding the stars from direct vision and using a mirror. Place mirror about 1" from point of star.
Christmas Fill-In
Baltimore Area Council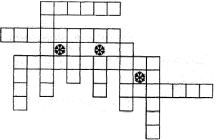 BOW DINNER GIFT
CANDLES TREE FRIENDS
PEACE CHRISTMAS FAMILY
GINGERBREAD
Kwanzaa Word Search
Baltimore Area Council
BENDERA KARAMU KUJICHAGULIA
KWANZAA MAZAO MUHINDI
NIA SWAHILI UJAMAA
UJIMA IMANI TAMBIKO
KUUMBA UMOJA MKEKA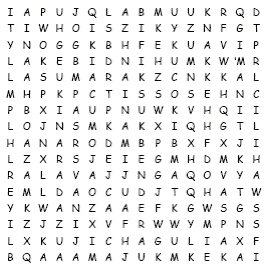 Christmas Word Search
Baltimore Area Council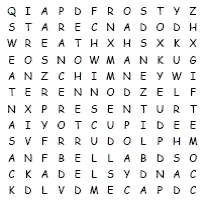 Ball Deer Santa
Bell Donner Sled
Blitzen Elf Snowman
Candy Frosty Star
Chimney Gift TOY
Comet Prancer Tree
Cupid Present Vixen
Dancer Rudolph Wreath
Dasher Sack
Chanukah Word Search
Baltimore Area Council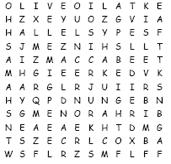 Candle Chanukah Dreidel
Eight Gelt Gimel
Hallel Hammer Hay
Kislev Latke Maccabee
Menorah Modin Nun
Olive oil Shamash Shin
Syrians Temple
Christmas Sayings and Songs Puzzle
San Gabriel, Long Beach Area, Verdugo Hills Councils
Translate each statement into modern English. Each is a common Christmas saying or song.
Move thitherward the entire assembly of those who are loyal in their belief.
Listen, the celestial messengers produce harmonious sounds.
Nocturnal time span of unbroken quietness.
An emotion excited by the acquisition or expectation of good given to the terrestrial sphere.
Embellish the interior passageways.
Exalted heavenly beings to whom harkened.
Twelve o'clock on a clement night witnessed its arrival.
The Christmas preceding all others.
Small municipality in Judea southeast of Jerusalem.
Diminutive masculine master of skin covered percussionistic cylinders.
Omnipotent Supreme Being who elicits respite to ecstatic distinguished males.
Tranquility upon the terrestrial sphere.
Obese personification fabricated of compressed mounds of minute crystals.
Expectation of arrival to populated area by mythical, masculine perennial gift-giver.
Natal Celebration devoid of color, rather albino, as a hallucinatory phenomenon for me.
In awe of the nocturnal time span characterized by religiosity.
Geographic state of fantasy during the season of Mother Nature's dormancy.
The first person nominative plural of a triumvirate of Far Eastern heads of state.
Tintinnabulation of vacillating pendulums in inverted, metallic, resonant cups.
In a distant location the existence of an improvised unit of newborn children's slumber furniture.
Proceed forth declaring upon a specific geological alpine formation.
Jovial Yuletide desired for the second person singular or plural by us.
Answers at the end of Baloo