PACK AND DEN ACTIVITIES
Service Activities
Piedmont Area Council
Give some of the toys Cub Scouts may have made as part of the Craftsman badge to a children's home, hospital, or institution for handicapped children.
Use Craftsman skills to repair or refurbish toys for the same purpose.
Collect good used books and magazines for the library of a children's home or institution for the elderly.
Service, best exemplified by the daily Good Turn has long been a tradition in Scouting. Good citizenship is best taught by service in action.
To get the most Cub Scouting has to offer, boys should have opportunities to take part in den and pack service projects. This is one of the best way to show boys that helping other people is not only beneficial to others, but is fun and rewarding for themselves. They will experience a warm feeling that comes from giving to others.
Den Activities
San Gabriel, Long Beach Area, Verdugo Hills Councils
Cubs need to be reminded periodically that not all people face this holiday season with the same anticipation. Help them look closely at your own community. Are there people who may not have enough to eat or enough money for a tree and decorations (let alone presents) or people who are in need of company? Churches or specific organizations have some plans for addressing these issues. Maybe you can join in those efforts or devise your own "good turn." Here are some ideas:
Collect clothing, toys, book, school supplies, decorations, and canned goods for shelters for needy families.
Make decorations for someone's home or apartment.
Help an elderly person or shut-ins to decorate their home for Christmas. Be sure to help them take down the decorations after Christmas.
Save money from recycling and purchase a Christmas tree for a needy family.
Make a full holiday meal and serve it to low-income elderly (assign each den family to make a certain item).
Go caroling on the children's floor at the hospital, at the nursing home or around town.
Visit the elderly and share a craft or put on a simple skit or read to them.
Select some needy person and become their "secret Santa." Each week of December, mail them some little knick-knack, card, or memento.
Gather empty coffee cans and decorate them with holiday paper. Fill them with cookies donated by the various families in the Pack. Distribute to residents of the Veterans Administration hospital in your area as a holiday treat.
Make bird feeders: String popcorn and cranberries and hang them where the elderly and the shut-ins may watch the birds come to feed.
Have each family bring a piece of clothing (gloves, hat, socks etc.) to the Pack meeting. Have them hang these on a clothesline. Donate all the items to a local homeless shelter.
Do yard work regularly during the month for a church, temple, elderly, or shut-ins.
Clean up the grounds or plant flowers for the chartered organization.
Collect books and magazines for needy families and send them with homemade bookmarks.
Share what blessings each of us has
Please note:
Most institutions have restrictions, so be sure to clear with them before you undertake a project. When you are visiting a place that is normally isolated from the outside world, like a nursing home or convalescent home, please be careful about taking children who have severe colds. The patients/residents are susceptible to outside germs. Remind the boys that a service project is not limited to the holiday season. Many organizations need help throughout the year. The holiday season is just a good time to start a service project. Have the boys get involved in service projects year round. Projects don't have to be big. Please read pages 9-10 to 9-11 in the Cub Scout Leader Book for a service project that will be ideal for other times of the year.
Make Your Own Traditions
San Gabriel, Long Beach Area, Verdugo Hills Councils
A Cobweb Party! - In the 18th century, a fun tradition was to tie a LONG piece of yarn to a present - then hide the present. Take the piece of yarn (which is still attached to the hidden present) and wrap it around chair legs, through stair banisters, over tables, under couches... clear around the house. Once you're ready to hunt out the presents, the gift giver needs only to tell the recipient what color yarn to follow. If everyone in the family hides and seeks presents for each other, it can turn into a cobweb extravaganza!
Go to church. Choose a special service, get dressed up in your best, and give thanks for all that you have.
Make cookies together. Make cookies that are special just for this holiday, like sugar cookie cutouts or red and green M&M cookies.
Make an entry in a yearly family diary. Take note of anything unusual or something very special that happened this year.
Play card games or board games together. Keep a running tally of who's winning, and at the end of the day the winner gets a "big box" surprise present!
After opening your presents, put together a basket of good stuff you no longer need to give to a charitable organization. Put a bow on it, and put it by the front door to be delivered the day after Christmas.
Put on a Christmas show and tape it (either audio or video). Keep track of your performances each year. If you can't sing or dance, read a poem or a tell a short story!
In the days before Christmas, you can write a short script for a play, either about the Christmas Story or about something you all enjoy. On Christmas day, you can hand out the parts (and costumes, if you have them) and videotape your performance!
Play Christmas music on the radio (or stereo) in the background.
Decorate an outside tree with homemade animal-friendly decorations, such as strings of popcorn, birdseed balls, and pinecone/peanut butter feeders.
Drive through neighborhoods decorated with bright shining lights and lawn ornaments.
Stroll through the neighborhood singing holiday carols.
Take a walk in the woods gathering pinecones and other nature items to use to make holiday decorations and presents. End each activity with a holiday party!
Read a story or poem about snow. There is something magical about snow, the way it blankets fields and rests on tree branches, the way it softens a landscape, and quiets a city.

The Big Snow - Berta and Elmer Hader (story)
First Snow - Marie Louise Allen (poem)
It Fell in the City - Eve Merriam (poem)
Snow - Karla Kuskin (poem)
The Snowy Day - Ezra Jack Keats (story)
Stopping by Woods on a Snowy Evening - Robert Frost (poem}
When All the World Is Full of Snow - N.M. Bodecker (poem)
Holiday Placemats
San Gabriel, Long Beach Area, Verdugo Hills Councils
Give each boy a sheet of heavy white paper.
Draw, write on, and decorate each side with stickers.
Include festive images and greetings.
Be sure each boy writes his name on the bottom of one side and "(Wolf or Bear) Den, Pack ____."
Cover these with contact paper and deliver them to shut-ins before Christmas.
Christmas Card Window
San Gabriel, Long Beach Area, Verdugo Hills Councils
Glue four craft sticks together to form a square. Then glue two more sticks across the middle, one going horizontally, and one going vertically so it looks like a window.
Cut out an outdoor scene from an old Holiday card and glue it onto the window so that the picture is face down on the sticks.
Turn it over and glue a strip of lace ribbon across the top stick. It looks like you're looking out of a window with a lace valance.
Kwanzaa Mat
San Gabriel, Long Beach Area, Verdugo Hills Councils
Measure and cut a piece of black construction paper that is 8" wide and 10" long.
With a ruler and pencil, measure and draw seven lines on the paper, leaving a 1" border all the way around the mat.
Cut four red and four green strips of construction paper, each 1" wide, and 8" long.
Weave the red and green strips alternately, going over and under the black mat frame.
Keep the border solid black for a clean, finished look.
Secure the ends of the red and green strips with glue or tape. Now you have a placemat for the holiday season!
Photo Ornament
Baltimore Area Council
Materials:
Four photos of family members
5" red ribbon Glue
Thumbtack
Foam cube
Directions:
Cut the photos to the size of one side of the cube.
Glue a different photo to each of the four sides.
Leave the top and bottom blank.
Fold the ribbon in half to make a hanging loop.
Secure the ends to the top of the cube with the thumbtack.
Let glue dry.
Christmas Sled
Baltimore Area Council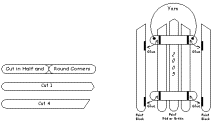 Materials:
6 Popsicle sticks, Glue
6" piece of yarn, Sandpaper
Red, green, and black acrylic paint
Directions:
Cut Popsicle sticks as shown.
Paint all sticks and let dry.
Assemble as shown.
Snowman Pin
Baltimore Area Council
A gift that is sure to please. You'll need two white buttons, each with two holes. One button should be larger than the other. Glue the buttons to the back of a jewelry pin, the smaller button with the holes positioned horizontally for eyes and the larger button with the holes vertically for buttons. Cut out a hat from black felt or fun foam and glue to the head. Tie a ribbon around the neck for a scarf.
Magic Reindeer Food
Baltimore Area Council
Materials:
Uncooked oats
Ribbon
Zip-lock bag
Glitter
Directions:
In a zip-lock bag, put a little bit of uncooked oats and glitter. Shake to mix.
Place this poem inside the bag and hand out.
On Christmas Eve Night
Before the little ones yawn
Sprinkle "Magic Reindeer Food"
On your front lawn
The smell of the oats
And the sparkles so bright
Will surely help Rudolph
With his Christmas Eve flight.
Candy Menorah
Baltimore Area Council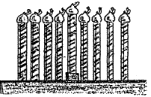 Materials:
Styrofoam pieces for base
9 peppermint sticks
9 candy kisses
Directions:
Cut a 1" square of foam and glue to center of foam base.
Push four peppermint sticks into the foam to one side of the center.
Push four peppermint sticks into the other side.
Push the central peppermint stick into the center.
On the first day of Hanukkah, "light" the Shamash and the first "candle" on the right.
To light the candles, dab some frosting onto the top of the candy stick and attach a candy kiss.
Candles are lit from right to left.
On the eighth day, the edible parts of the menorah may be eaten in celebration of the holiday.
Pomander
Baltimore Area Council


Materials: Firm, fresh oranges or lemons, whole dried cloves, toothpick, nylon net, ribbon or pretty yarn
Directions:
Use the toothpick to poke holes in the orange skin,
Insert a whole clove into each hole. You can randomly place the cloves in the orange, as close together as you can, or you can make a neat vertical or horizontal pattern.
If you want to add a richer, spicier scent, roll the finished pomander in a mixture of cinnamon, allspice, and nutmeg. Now, set the pomander aside to dry for several weeks.
It will shrink and get hard (as the orange gets dehydrated).
Wrap it in a square of nylon net and tie the ends with the ribbon.
It's ready to hang in a closet or kitchen, or give as a gift.
Candy Train
Baltimore Area Council


Materials:
Pack of gum
Roll of lifesavers
Two caramels
Four hard Peppermint Candies (2 for each side)
One Hershey's Kiss
Directions:
Keep all candies in wrappers.
Use a drop of tacky glue to attach each piece.
Follow the diagram above and glue candies together to make a train.
You may add a ribbon to the top and use it as a Christmas Tree ornament.
A CD Wreath
San Gabriel, Long Beach Area, Verdugo Hills Councils


What you will need:
An old, scratched, bad or AOL CD (There are usually a lot of these in Post office lobbies)
"Reflective" Mylar ribbon
White glue
Glitter
Mylar confetti (most stationary stores carry this) or holographic stickers
Velcro with self adhesive on the back
Directions:
Glue star, tree, or whatever shape Mylar confetti you want to the "shiny" backside of the CD.
Swirl patterns and dots of white glue and sprinkle with glitter. Tie a bow out of reflective Mylar ribbon and glue to the CD.
Use a piece of self adhesive Velcro to attach the CD Christmas wreath to a computer, door, or wherever!
This project is very easy to do, even for younger children, and makes a great gift for a computer geek... er... I mean enthusiast.
Hanukkah Match Holder
Baltimore Area Council
Materials:
Small pill bottle
Blue felt
Yellow yarn
Glue
Sandpaper
Directions:
Cut a piece of blue felt long and wide enough to cover outside of pill bottle. Ends should overlap for gluing.
Cut six 1" pieces of yarn and glue to side of holder in shape of a Star of David.
Glue a longer band of yarn along edges of felt at top and bottom of holder.
Cut a circle of sandpaper the size of the bottom of bottle, Glue won't stick to plastic, so tape in place.
Give match holder to the grown-up in your house who is in charge of lighting the menorah.
Note: You will need to find the "strike-anywhere" type of wooden matches for this to work. If you have the "strike on the box" type of matches, use a circle cut from the striker on the side of the box instead of sandpaper.
Make A Dreidel
San Gabriel, Long Beach Area, Verdugo Hills Councils
Adapted from www.kidsdomain.com
You Will Need:
Dreidel Pattern
Lightweight cardboard
Scissors
School Glue
A short, sharpened pencil or dowel (about 3" long)
Nuts, raisins, pennies, or whatever you want to play the game
Directions:
Print out the dreidel pattern. (Copy and enlarge to fill a sheet of paper)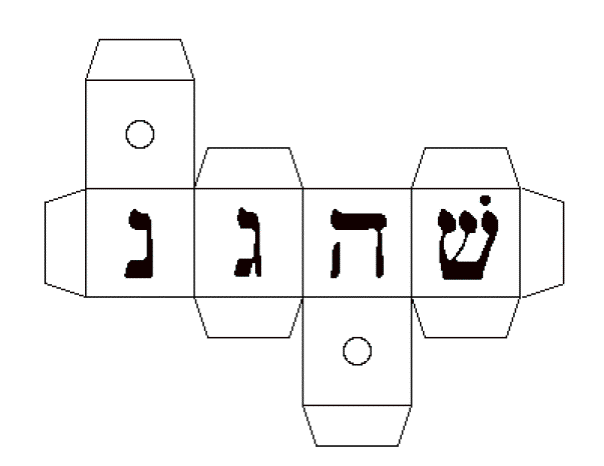 Glue the pattern to lightweight cardboard and cut it out. Carefully cut out the little holes at the top and the bottom of the dreidel.
Fold the pattern into a box shape and glue the flaps in place on the inside of the dreidel. Let the glue dry.
Push the pencil or dowel through the holes so that the point comes through the bottom. Secure with a little glue if necessary.
Play the dreidel game!!
The Dreidel Game
San Gabriel, Long Beach Area, Verdugo Hills Councils
To begin the game, each player should have 10-20 objects. Each person puts one object in the middle. Then each person takes a turn at spinning the dreidel. What letter the dreidel shows when it is finished spinning determines what each person must do.

When only one object or no objects are left in the middle each player adds one. When a player has everything, he or she wins!
Christmas Tree Bird Feeder
San Gabriel, Long Beach Area, Verdugo Hills Councils
Your old Christmas tree or your backyard shrubs as a bird feeder. Decorate them by making Orange Slice Ornaments and Cookie Cutter Bird treats. This not only makes a festive feeder but also provides shelter for small birds like sparrows and juncos. This activity can take 1 or 2 Den Meetings. This would depend on the size of the den.
Orange Slice Ornaments
Materials:
Oranges
Paring knife, cutting boards
Yarn
Raffia or ribbon
Pencils
Give each Cub Scout his own orange and experiment slicing his orange, along with knife safety instructions. When it's time to deck the tree or shrub, tie each slice to a branch.
Cookie Cutter Bird Treats
Baltimore Area Council
Ingredients & Materials:
1 cup shortening
3½ cups all-purpose flour
1 tsp. Baking soda
1½ tsp. Cream of tartar
½ tsp. Salt
3 eggs
Mixed birdseed
Cookie cutters
Drinking straws
Ribbon
Directions:
Cream the shortening and beat in the eggs.
Sift together flour, soda, cream of tartar, and salt.
Gradually add the dry ingredients to the shortening/egg mixture.
When well mixed, cover and chill.
Flour surface and roll dough out to about ¼ inch thick.
Cut out shapes with cookie cutters.
At the top of each cookie, make a hole with the straw.
Press in a coating of birdseed.
Preheat oven to 350º and bake for about 12 minutes.
When the cookies are cool, insert a length of ribbon through each hole and tie.
Hang on tree outdoors for birds to enjoy.
Christmas Mouse Slide
Baltimore Area Council

Paint clean walnut shell halves gray.
Fill with plaster.
Insert plastic ring into plaster when it begins to set up.
Add wiggle eyes, black thread whiskers, gray felt tail and ears and a red felt Santa hat.
Square Knot Slide
Piedmont Area Council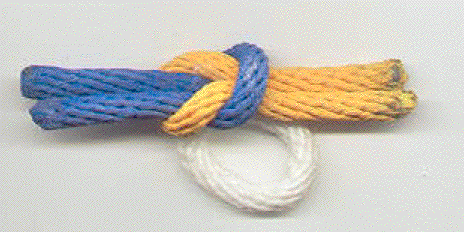 A number of you have mentioned this simple square knot. Simply dye cotton rope in appropriate colors,
Tie the knot, and use a little glue to hold it together.
Attach a loop and you're set!
If you're using nylon rope, you'll need to melt the rope ends a bit to prevent fraying.
We used clothesline cut into 4-inch strips.
We had to melt the ends to keep from fraying. Since most cheap clothesline is made from nylon, the adults should do this step so that the melted nylon does not burn the scouts.
We then painted one strip blue and one strip yellow.
After the paint dried, we assembled a square knot and fused a strip of clothesline on the back for the slider part."
Borax Crystal Snowflake
San Gabriel, Long Beach Area, Verdugo Hills Councils
Grow a snowflake in a jar!
You will need:
string
wide mouth jar
white pipe cleaners
blue food coloring (optional)
boiling water (with adult help)
borax (available at grocery stores by laundry soap)
pencil
Directions:
With a little kitchen science you can create long lasting snowflakes as sparkly as the real ones.
Cut a white pipe cleaner into 3 equal sections. Twist the sections together in the center so that you have a "six-sided" star shape. If your points are not even, trim the pipe-cleaner sections to the same length.
Now attach string along the outer edges to form a snowflake pattern.
Attach a piece of string to the top of one of the pipe cleaners and tie the other end to a pencil (this is to hang it from).
Fill a wide mouth jar with boiling water.
Mix borax into the water one tablespoon at a time.
Use 3 tablespoons of borax per cup of water. Stir until dissolved, (don't worry if there is powder settling on the bottom of the jar).
If you want you can add a little blue food coloring now to give the snowflake a bluish hue.
Insert your pipe cleaner snowflake into the jar so that the pencil is resting on the lip of the jar and the snowflake is freely suspended in the borax solution.
Wait overnight and by morning the snowflake will be covered with shiny crystals.
Hang in a window as a sun-catcher or use as a wintertime decoration.
Snowglobe
San Gabriel, Long Beach Area, Verdugo Hills Councils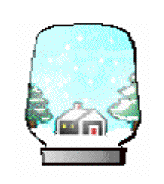 Supplies:
Baby food jars (medium or large jars)
Florist clay
Small figurine
White glitter or fake snow (available at stores during the holiday season)
Glue gun/glue or aquarium sealing glue (hot glue is cheaper)
Optional: Any ribbon, garland plastic greenery
Directions:
Make sure jar is washed and clean. Note: Any jar will do if you desire a larger snow globe.
Attach figurine to inside of jar lid using florist clay. If you are using a small object, it's a good idea to build up the clay so the object will appear taller. Attach any optional items with the clay (greenery, berries, etc.). Use your imagination, but make sure it is waterproof and won't dissolve.
Fill jar with water to within ½" (1 cm) of top. Use cold water; warm water tends to cloud.
Sprinkle 1 tablespoon (25 ml) of glitter, or snow into water.
Insert figurine in water; screw on lid. Let stand overnight -- lid side up.
Use glue/sealer to ensure it is waterproof and attach decorative ribbon over lid. You may also paint the lid rather than use ribbon. Use your imagination; the possibilities are endless!
Tips:
Make sure the objects are secure in the clay; you could even glue them for added security.
Before gluing or sealing the lid, make sure you have a sufficient amount of glitter. Depending on the size of the jar, you may need more or less.
To make a more elaborate snowglobe, add tiny objects to float in the water, use a drop of colored oil to create a swirling effect, use food coloring in the water, various
Colors of glitter, etc. This can be altered in any way to be a one-of-a-kind. Use your imagination and have fun.
Choose a theme: Birthday, sports, holiday, Victorian, seashells, etc.
This activity may be used with any size jar; have fun with this and be creative.
Christmas Package Slide
San Gabriel, Long Beach Area, Verdugo Hills Councils
Supplies:
An old ice tray with square or rectangle cubes.
Plaster, Oil, Ring for slide, art supplies
Directions:
Grease with oil (lightly) and pour in plaster.
While plaster is still wet, insert rings in each square for the slide ring.
Let plaster dry.
When plaster is thoroughly dry, remove from mold.
Paint with tempera or acrylic paint or wrap with foil wrapping paper.
Glue on ribbon; add a nametag for each boy.
Christmas Package Neckerchief Slide
San Gabriel, Long Beach Area, Verdugo Hills Councils
Supplies:
A small 1" (or 1.5") piece of foam (the stiff kind used in floral arrangements is good).
Ring for slide, wrapping paper, art supplies
Directions:
Wrap foam with Christmas wrapping paper (smaller design is best).
Add some ribbon around the gift and glue it in place.
Glue a ring on the backside.