May 2008 Cub Scout Roundtable Issue

Volume 14, Issue 10
June 2008 Theme

Theme: Go For The Gold
Webelos: Traveler & Handyman
Tiger Cub Activities
SPECIAL OPPORTUNITY
Physical Fitness Belt Loop and Pin
www.usscouts.org

This information is from the Cub Scout Academics and Sports Program Guide (34299B) 2006 Printing.
NOTE:
Webelos Scouts that earn the Physical Fitness Belt Loop while a Webelos Scout also satisfy requirement 10 for the Athlete Activity Badge and part of requirement 3 for the Sportsman Activity Badge.
Belt Loop
Complete these three requirements:
Give a short report to your den or family on the dangers of drugs and alcohol.
Practice finding your pulse and counting your heartbeats per minute. Determine your target heart rate.
Practice five physical fitness skills regularly. Improve performance in each skill over a month. Skills could include pull-ups, curl-ups, the standing long jump, the 50-yard dash, and the softball throw.
Sports Pin
Earn the Physical Fitness belt loop, and complete five of the following requirements:
Make a diagram of the Food Guide Pyramid. List foods you ate in a week and show where they fit in the pyramid.
Choose a form of exercise, bring your heart rate up to target, and keep it there for 15 minutes. Don't forget to warm up and cool down.
Set up a four-step exercise program. Chart your progress for five days a week for two weeks.
Explain the reason for warming up and cooling down before and after each exercise session.
Visit a local gym and talk to a trainer about exercises and programs for young people.
Participate in some aerobic exercises at least three times a week for four weeks.
Build an obstacle course that could include some exercises with jumping, crawling, and hurdles. Time yourself three times to see whether you can improve your time.
Swim for a total of an hour, charting your time as you go.
Participate for at least three months in an organized team sport or organized athletic activity.
If you would like to download a workbook for these awards go to:
For Word.doc - http://usscouts.org/advance/cubscout/sports/worksheets/physical-fitness.doc
For Adobe. PDF –
http://usscouts.org/advance/cubscout/sports/worksheets/physical-fitness.pdf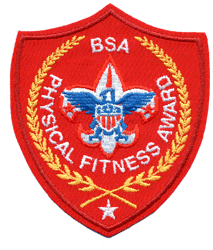 The following physical fitness activities are included in the Cub Scout, Boy Scout, and Venturing programs. These suggested advancement requirements could be a resource for youth in earning the BSA Physical Fitness Award.
Tiger Cub Handbook
Elective 37: Take a bike ride
Elective 40: Swimming-related activity
Wolf Cub Scout Book
Achievement 1: All of them
Achievement 9: Ride a bike
Achievement 10b: Walk
Elective 7: Walk on stilts/puddle jumpers
Elective 20: Sports—boating, skiing, ice-skating, roller-skating, sprint start, standing long jump, soccer, baseball, basketball
Bear Cub Scout Book
Achievement 14, 15: Bike riding, games
Achievement 16, 23: Building muscles, sports
Elective 5, 19: Boats, rowing, swimming
Elective 20: Sports—plus long and high jump
Webelos Scout Book
Aquanaut: Swimming, boating
Athlete: Push- and pull-ups, curl-ups, standing long and vertical jump, 50- and 600-yard dash
Sportsman: Two team sports, two individual sports
Boys' Life Reading Contest for 2008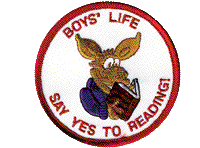 SAY 'YES' TO READING
Enter the 2008 Boys' Life Reading Contest
Write a one-page report titled "The Best Book I Read This Year" and enter it in the Boys' Life 2008 "Say Yes to Reading!" contest.
The book can be fiction or nonfiction. But the report has to be in your own words — 500 words tops. Enter in one of these three age categories:
8 years old and younger
9 and 10 years old
11 years old and older
First-place winners in each age category will receive a $100 gift certificate good for any product in the Boy Scouts official retail catalog. Second-place winners will receive a $75 gift certificate, and third-place winners a $50 certificate.
Everyone who enters will get a free patch like the one shown above. (And, yes, the patch is a temporary insignia, so it can be worn on your Cub Scout or Boy Scout uniform shirt, on the right pocket. Proudly display it there or anywhere!) In coming years, you'll have the opportunity to earn different patches.
The contest is open to all Boys' Life readers. Be sure to include your name, address, age and grade in school on the entry.
Send your report, along with a business-size, self-addressed, stamped envelope, to:
Boys' Life Reading Contest
S306
P.O. Box 152079
Irving, TX 75015-2079
Entries must be postmarked by Dec. 31, 2008 and must include entry information and a self-addressed, stamped envelope.
For more details go to www.boyslife.org
Knot Award of the Month
Instead of a Knot this month, I am featuring the Physical Fitness Award for leaders. With BSA's emphasis on fitness and countering childhood obesity, it is important that leaders set the example in this area.
Remember, all leaders are always setting an example. We always use the story of the smoker telling boys not to smoke. How about the king size leader telling boys they need to be fit?? Lets get ourselves in shape and then we will be better able to help our Cubs be physically fit. CD
The BSA Physical Fitness Award
A Program of Emphasis
For Cub Scouts, Boy Scouts, Venturers, and Leaders

To Be Physically Fit
www.scouting.org, BSA National's website
www.USScouts.org
Two important challenges in preparing youth for the 21st century—particularly in today's increasingly automated and sedentary culture—are physical fitness and good health. Every adult leader for the year 2002 should set the example and contribute directly to the health and fitness of today's Scouts by completing requirements for the BSA Physical Fitness Award. The award's objectives, developed by the Council Services Division of the National Council and the national BSA Health and Safety Committee, are as follows:
Encourage youth fitness in the BSA by providing positive role models and by enhancing youth awareness and understanding of fitness parameters, health risks, and personal circumstances.
Encourage physical fitness among Scouters by enhancing their awareness and understanding of fitness parameters, health risks, and personal circumstances.
Reduce the rate of stress- and fitness-related incidents throughout Scouting.
This award is a national program of emphasis designed to heighten fitness awareness and to help change the lifestyles of American youth and adults regarding exercise and a healthy diet to improve the quality of their lives.
Many concerns have been voiced regarding the increasing percentage of overweight and out-of-shape adults and youth in America due to overeating, poor diet, and lack of exercise. The Boy Scouts of America is the organization that is best equipped to adopt a program of emphasis on physical fitness.
One of the founding purposes of the movement is to emphasize physical fitness. This program is intended to have significant grassroots involvement without encumbering a district or council. The target audience is the youth and adult members of the units.
Purpose
This award has been developed to
Encourage the development of attitudes, knowledge, and skills that promote fitness and safe conduct.
Lay a skill, knowledge, and attitude foundation of the seven major components of fitness.
Improve health, fitness, and quality of life through daily physical activity.
Recognition
Scouts and Scouterscompleting the requirements and earning the recognition receive a special certificate and may wear a special recognition pin and patch that can be purchased through their local council. The unit leader should submit the complete award application to the council. (I included some info on this award for your Cubs in the item on the Physical Fitness Belt Loop and Pin. CD)
Teaching Areas
Instruction and participation must be conducted in an environment free from all hazards and dangers. All BSA precautions and safety measures apply to this award.
Mentor
Mentors will be identified by the council's health and safety committee, risk management committee, or training committee, and could include any person recognized and trained in activity education. A merit badge counselor in any physical activity-oriented merit badge may serve as a mentor for this award.
Mentors and merit badge counselors must have undergone the appropriate BSA merit badge counselor orientation training, as reviewed and identified by the council's training committee and health and safety committee.
The mentor should check to make sure all participants have had medical checkups from their physician prior to participation.
The mentor should not omit, vary, or add requirements unless part of the individual's goal.
The mentor should recognize that both youth and adults will participate in this program.
Mentors, merit badge counselors, and adult Scouters will be provided with the new trifold Leader's Fitness Card (pocket card) as they initiate this program. The council's training committee and health and safety committee will ensure that adequate supplies are available for the duration of the BSA Physical Fitness Award program.
Requirements
Complete a cardiovascular fitness evaluation/consultation with your personal health care provider. (This can be done as part of the examination required by any council-approved class 3 medical evaluation.)
Using the BSA references listed after the seven major components, give a presentation to a BSA or other community youth group (at least eight youth participants) on cardiovascular fitness, diet, the health benefits of regular aerobic exercise, exercise recommendations for the Scout-age group, and healthy lifestyles.
Review the BSA guidelines for the Athletics and other physical activity or personal fitness-oriented merit badge and explain steps you have taken to follow each of the guidelines for the fitness goals. Explain precautions to be taken for a physical fitness activity in each of the following: woods, fields, facilities, and waterfront.
Explain to your mentor the symptoms of dehydration and hypothermia. Explain the special considerations for preventing dehydration and hypothermia.
Properly outfit for physical activities with proper equipment, clothing, and footwear. Know your own capabilities and limitations. Illustrate how you would prepare for the physical fitness goals included in the award program.
With supervision from your mentor or other qualified persons, set up a fitness goal-oriented plan using the seven major components of fitness.
Demonstrate your ability to improve your strength, posture, endurance, agility, speed, accuracy, and balance with your own goal-oriented fitness plan.
The Seven Major Components of Fitness
The BSA Physical Fitness Award's core requirements are the following seven major components. They are used to measure an individual's improvement over time, not to establish an arbitrary minimum level of activity.
Posture
Posture is evaluated with a posture-rating chart. The Scout or Scouter is compared to a photo of his or her starting posture, noting 13 different body segments. Each body segment is scored as a five, three, or one, making a possible range of scores from 13 to 65. Higher scores over time reflect improving posture.
Accuracy
The target throw is used to measure accuracy. The Scout or Scouter makes 20 throws with a softball at a circular target and is scored on the number of times the target is hit.
Strength
The sit-up is used to measure strength. The Scout or Scouter lies on his or her back with knees bent and feet on the floor. The arms are crossed on the chest with the hands on the opposite shoulders. The feet are held by a partner to keep them on the floor. Curl to the sitting position until the elbows touch the thighs. Arms must remain on the chest and chin tucked on the chest. Return to the starting position, shoulder blades touching the floor. The score is the number of sit-ups made in a given time.
Agility
The side step is used to measure agility. Starting from a centerline, the Scout or Scouter sidesteps alternately left and right between two lines 8 feet apart. He or she is scored on the number of lines crossed in 10 seconds.
Speed
The dash is used to measure speed. The score is the amount of time to the nearest half-second running a set distance that can be increased each year.
Balance
The squat stand is used to measure balance. The Scout or Scouter squats with hands on the floor and elbows against the inner knee. He or she leans forward until the feet are raised off the floor. The score is the number of seconds held in that position.
Endurance
The squat thrust is used to measure endurance. The Scout or Scouter starts from the standing position. He or she performs the usual four-position exercise. The score is the number of completed squat thrusts made in a given time.
Some of these tests measure more than the components they represent. For example, the sit-ups, a measure of strength, also reflect some endurance because of their repetition. The squat stand requires balance, its major component, but also requires strength and endurance to support the weight of the body on the arms.
An application for the award may be downloaded from -
http://www.scouting.org/media/publications/physicalfitness/reqap.aspx
Most of the information here was obtained from
http://www.scouting.org/Media/Publications/PhysicalFitness.aspx