October 2008 Cub Scout Roundtable Issue

Volume 15, Issue 3
November 2008 Theme

Theme: Seeds of Kindness
Webelos: Citizen and Communicator
Tiger Cub Achievement 2
POW WOW EXTRAVAGANZAS
Let me know as soon as your date is set. I will post whatever I receive! CD
Southern NJ Council
Cub Scout Centennial Express
January 24, 2009
Lakeview School, Millville, NJ 08332
Call Southern NJ Council, 856-327-1700, extension 32, or visit the web portal, www.snjscouting.org for more information
Del-Mar-Va Council
Molding Futures
November 15, 2008
Lake Forest High School, Felton, Delaware
For more information call 302-622-3300 or visit their web portal, www.delmarvacouncil.org
Buckeye Council
"Refueling the Fire"
Saturday November 1st, 2008
Faith United Methodist Church, North Canton, Ohio
For more information go to www.buckeyecouncil.org
Or contact volunteer chairperson, Michele Randolph at mrrandolph@verizon.net
Sam Houston Area Council
Akela's Trail **
Adventure in the Jungle
November 1, 2008
Spring Woods High School, Houston, Texas
For more info call (713) 659-8111 or go to http://www.samhoustonbsa.org/Home/Training/AkelasTrail/
** Sam Houston Area Council has changed the name of their Pow Wow to Akela's Trail. They want to get the idea across that this council training event is for all Akelas –
all parents and leaders of Cub Scouts.
Catalina Council
Knights of the Roundtable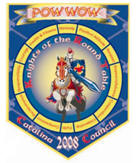 November 1, 2008
Fairmount LDS Center
6150 E. Fairmount, Tucson
For detailed information call 520-750-0385 or go to
http://www.catalinacouncil.org/training/2008_Pow_Wow.pdf
I know Catalina's Pow Wow will be great -
A Bob White is in charge!!!! CD
Connecticut Rivers Council
Seeds of Kindness
November 15, 2008
PowWow2008
East Windsor High School, East Windsor, CT 06088
For detailed information call 860-289-6669 or go to http://members.cox.net/jcrakoczy/PW2008.html .
On-line Registration begins September 1, 2008.

Materials found in Baloo's Bugle may be used by Scouters for Scouting activities provided that Baloo's Bugle and the original contributors are cited as the source of the material.