Firecrafter Patch from Outside
Crossroads of America Council
This Firecrafter rank patch is cloth backed and has a red cut edge border. It came from Camp Cauble in the Sekan Area Council in Kansas. Notice the detailed fire and the tent flap on the teepee.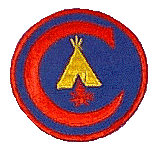 Webmaster Note: This information provided courtesy of Matt Baldwin XXX.