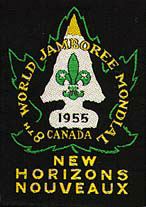 The Eighth World Jamboree.



Niagara-on-the-Lake, Canada, 1955. The Eighth Jamboree. First World Jamboree and first international gathering to be held outside Europe. Total countries 71, total numbers 11,139. The Jambore of New Horizons. many firsts: all cooking done by charcoal, television came to a World Jamboree; so did Hurricane Connie! Unusual arrivals: two whalers up the Ottawa River from Montreal, through the Rideau Canal and across Lake Ontario. Three Brazilian Scouts arrived by Jeep. New Zealand Scouts left home four months before the Jamboree started and traveled over 30,000 miles. The greatest impresión: Canadian hospitality. New Columbuses, Scouts discover America

Contributed by: Carlos Rodriguez, Wood Badge Scouter, Venezuela

The 50th Anniversary of the Jamboree of New Horizons was held at Niagara-on-the-Lake on the weekend of September 16 - 18 2005. See the Jamboree Commemorative website http://wj55.org for photos, stories, and information about the original Jamboree, the Anniversary Celebration and things to do when you visit the Jamboree site located only 16 km (10 mi) from Niagara Falls.