March 2008 Cub Scout Roundtable Issue

Volume 14, Issue 8
April 2008 Theme

Theme: Abracadabra
Webelos: Sportsman & Family Member
Tiger Cub Activities
CUB GRUB AND FUN FOODS
Magic Cookie Bars
Alice, Golden Empire Council
This is the favorite recipe using Eagle Brand milk – the magic is that you can create a cookie without eggs – and they taste great!
Ingredients:
1 1/2 cups graham cracker crumbs
1/2 cup (1 stick) butter or margarine, melted
1 (14-ounce) can EAGLE BRAND® Sweetened Condensed Milk
2 cups (12 ounces) semi-sweet chocolate chips
1 1/3 cups flaked coconut
1 cup chopped nuts
Directions:
Preheat oven to 350°F (325°F for glass dish).
In small bowl, combine graham cracker crumbs and butter; mix well.
Press crumb mixture firmly on bottom of 13X9-inch baking pan.
Pour EAGLE BRAND® Condensed Milk evenly over crumb mixture.
Layer evenly with remaining ingredients;
Press down firmly with fork
Bake 25 minutes or until lightly browned.
Cool.
Cut into bars or diamonds. Store leftovers covered at room temperature.
Makes 2-3 dozen bars
You can also substitute chocolate chips or nuts with: candy coated pieces, dried cranberries, raisins, mini marshmallows or butterscotch chips.
Edible Wands
Sam Houston Area Council
Ingredients:
Pretzel sticks
White frosting in a tub
Knife or small spatula
Small bowl
Edible star sprinkles
Wax paper
Directions:
Scoop out a small amount of frosting and put in a small bowl. (Note: The pretzels will make the frosting taste salty, so only take out as much as you need. Save the rest of the frosting for icing cookies, etc.)
Dip the pretzel in the frosting and twist and pull the pretzel out of the frosting.
Out of the Hat Cake
Alice, Golden Empire Council
Ingredients:
1 cake mix
1 recipe of dark frosting – if you use paste food coloring, you can even have black! Or you can use 1 can of dark chocolate frosting
Pudding or jam, your choice
Directions:
Mix the cake as directed on the box
Bake in three 8-inch round pans. Reduce the baking time listed by 5 minutes.
While the cakes cool, cut a 9-inch circle from cardboard.
Then cut out a 6-1/2 inch circle from the center, leaving a 1-1/4 inch wide ring. This will be the hat brim of your Magician's Hat.
Cut the same size ring from waxed paper and attach to the cardboard with a glue stick.
Cut out two bunny ears from white construction paper, and two inner ears from pink construction paper.
Place a toothpick on the white ear so half of it extends below the ear.
Now glue the pink inner ear on top of the white, sandwiching the toothpick in between.
Assemble the 3 cake layers, putting more frosting, jam or pudding between the layers.
Frost the cake and also cover the ring with frosting and place it on the cake.
Smooth the frosting over the cake and ring so they look like one piece.
Place the rabbit ears in the center of the cake.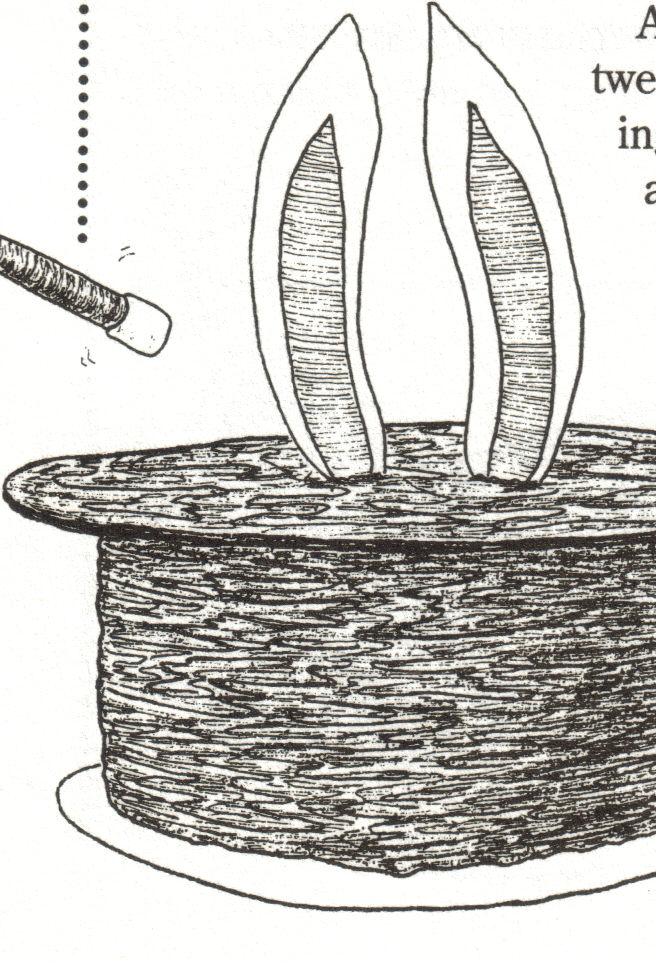 Now you have a Magician's Hat, complete with the Rabbit!
Magic Peanut Butter Pie
Alice, Golden Empire Council
Watch out for Peanut Allergies!
Ingredients:
1 graham cracker pie crust
1 18 oz. jar of peanut butter
1 8oz package softened cream cheese
¾ c. honey
1 8oz tub frozen non-dairy whipped topping
1 semi-sweet chocolate baking squares
½ t. vegetable oil
Directions:
Beat together cream cheese and honey until well mixed.
Stir in peanut butter; mix well.
Gently fold in whipped topping.
Spoon into crust.
Using a microwave, melt chocolate and vegetable oil in a glass, liquid measuring cup for 1 1/2 minutes; drizzle over pie.
Chill 4 hours. Refrigerate leftovers.
Magic Pie, It makes its own crust!
Sam Houston Area Council
Ingredients:
½ cup butter or margarine
2 cups milk
2 teaspoons vanilla
1 cup sugar
4 eggs
½ cup flour
¼ teaspoon salt
1 cup shredded coconut or crushed pineapple
Directions:
Preheat oven to 350 degrees F.
Place all ingredients in a blender and combine thoroughly.
Grease and flour 10" deep dish pie plate.
Pour mixture into pie plate and bake in preheated 350-degree oven for 30 to 40 minutes or until set.
"Pie" will make its own crust as it cooks.
Serve at room temperature.
Abracadabra – Bigger Edible Wands!
Sam Houston Area Council
Ingredients:
½ cup white chocolate pieces
1 teaspoon shortening
10 long pretzel logs
Decorative candies or colored sugar (the kind you decorate cupcakes with)
Directions:
Melt the white chocolate with shortening.
Dip pretzels half way in chocolate,
Then roll the pretzels in candy or sugar.
Magic Potion
Sam Houston Area Council
Ingredients:
1 package unsweetened drink mix (any color)
Lemon-lime flavored carbonated soda, chilled
Water
Directions:
Mix the drink mix with 1 ½ cups water. Pour mixture into an ice cube tray and freeze solid.
To serve, pour the soda into clear cups. Put 1-2 flavored ice cubes into each glass.
As the ice cubes dissolves, the drink will change color and flavor – like magic.
Magic Brew Root Beer
Sam Houston Area Council
Ingredients:
5 gallons water
8 cups sugar
1 bottle Hire's Root Beer extract
10 lbs. dry ice (handle with leather gloves and or tongs as exposed skin can be easily frostbitten)
Directions:
Mix all ingredients. This will give a great "magic brew" with bubbles and smoke.
Stir frequently.
DO NOT drink until all dry ice has dissolved.
Can also make ½ of a recipe.