March 2008 Cub Scout Roundtable Issue

Volume 14, Issue 8
April 2008 Theme

Theme: Abracadabra
Webelos: Sportsman & Family Member
Tiger Cub Activities
FOCUS
Cub Scout Roundtable Leaders' Guide

Cub Scouts love to amaze and be amazed!! This month, the boys will discover the secrets of the magician's art as they demonstrate magical illusions and learn new tricks with cards, coins and other everyday magical objects. Visit a magic shop or invite a magician to your den or pack meeting magic show. This is a good month to hold your Space Derby.
CORE VALUES
Cub Scout Roundtable Leaders' Guide
Some of the purposes of Cub Scouting developed through this month's theme are:
Personal Achievement, Boys will have a sense of accomplishment in learning and demonstrating simple magic tricks.
Fun and Adventure, Boys will have fun presenting magic tricks for fiends and family.
Family Understanding, Families will offer support and encouragement as the boys learn and practice their magic tricks.
The core value highlighted this month is:
Courage, Boys will learn that tricks are fun, but in real life they need to do what is right regardless of how hard it is.
Can you think of others??? Hint – look in your Cub Scout Program Helps. It lists different ones!! All the items on both lists are applicable!! You could probably list all twelve if you thought about it!!
COMMISSIONER'S CORNER
Where am I??
I am in the state of confusion. During the last 30 days or so my second Pow Wow was held, I chaired the post event eval meeting and turned things over to next year's chair, Engineer Frank, turned over my Roundtable duties to my able assistant of six years, had my monthly Thrivent meeting moved to the third week so as President I could be there, and turned over all my projects at work. Then my wife and I packed up and left town moving to a small apartment almost 3000 miles from home for two months so I could begin some medical treatments. Many thanks to Mike, our webmaster at www.USScouts.org who began assembling this issue for me. And apologies to you dear readers for being late again. I am working with a Mac laptop, old IBM laptop, both with tiny screens, a portable hard drive with most of my files, and two jump drives. Only the MAC will go on the web.
As I reviewed my E-mails, I see that I have a lot with good ideas that should be posted in Baloo. That is one of the projects I hope to do for the next issue. Please don't give up on me posting your ideas. I do read all my E-mails.
Magic Tricks and ideas are scattered throughout this issue. They can be found under Stunts, Pack and Den Activities, Audience Participations, and other places. Depending on how Mike and I felt as we assembled the issue.
WANT TO KNOW HOW TO HAVE A SUCCESSFUL CUB SCOUT PROGRAM?
IT IS EASY!!!!
JUST 3 MAGIC WORDS
All you need to make your pack or den everything you want it to be!!
Bill Smith, The roundtable Guy says, "Before each meeting, repeat these three magic words seven times and you will be successful!!"
Don't know what they are???:
What to know what they are??
Go to http://wtsmith.com/rt/3magicwods.html
A note on National's Website, www.scouting.org
The National Council (of which we are not affiliated, please remember www.USScouts.org is an unofficial site of volunteers helping other volunteers. We do not represent or speak for National Council) recently revamped their website. Over 11,000 links were changed by the revamping. So, that is why your bookmarks to their site have stopped working. I lost my favorite link to the forms page but found the new one quickly by clicking through the Cub Scout pages.
Stuff
This month's theme is supported by a wonderful collection of stunts, tricks, and puzzles in an official BSA publication, Cub Scout Magic, by Francis J. Rigney available from Scoutstuff.org for only $8.99. You can also find used copies at Amazon.com.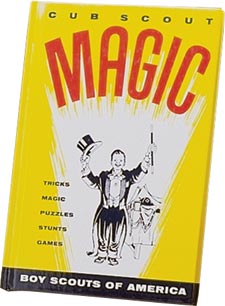 Months with similar themes to
Abracadabra
Dave D. in Illinois
| | | |
| --- | --- | --- |
| September | 1941 | Cub Magicians |
| January | 1948 | Magic Tricks and Puzzles |
| June | 1951 | Lost on an Island |
| November | 1961 | Cub Scout Magic |
| October | 1965 | Magic Words |
| October | 1970 | Cub Scout Magicians |
| March | 1979 | Making Magic |
| August | 1991 | Cub Scout Magic |
| April | 1995 | Cub Scout Magic |
| May | 2002 | Abracadabra |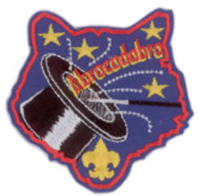 National makes a patch for every Cub Scout Monthly theme. This is the one for this theme. Check them out at www.scoutstuff.org go to patches and look for 2006 Cub Scout Monthly Theme Emblems.