Eagle Scout

---
Worn by adults who earned the rank of Eagle Scout as a youth member. The Eagle Scout is the highest youth rank in the Boy Scouting program.
For current requirements see, Eagle Scout Requirements
After earning the Rank of Eagle Scout, a Scout can continue to advance by earning palms. A palm may be earned by meeting a three month tenure requirement, a leadership requirement, and earning five additional merit badges. A bronze palm is awarded for the first five merit badges after Eagle. A gold palm for the next five and silver for an additional five. If a Scout continues to advance, combinations of palms may be earned with bronze and silver representing 20 merit badges beyond Eagle (and 12 months tenure). These palms may be worn by youth members on the Eagle Scout rank patch, or on the ribbon of the Eagle Scout medal. Adults that earned them as youth on the ribbon of their Eagle Scout medal on formal occasions, or on the Eagle Scout knot as illustrated below:






The Distinguished Eagle Scout Award was established in 1969 to acknowledge Eagle Scouts who have distinguished themselves in business, professions, and service to their country. Only Eagle Scouts who earned the Eagle Scout rank a minimum of 25 years previously are eligible for nomination. The award is given by the National Eagle Scout Service upon the recommendation of a committee of Distinguished Eagle Scouts. Recipients may wear a miniature gold Eagle Scout pin on the square knot.

---
NESA Life members may purchase and wear a special version of the Eagle Scout Square Knot with a silver mylar border, as illustrated below.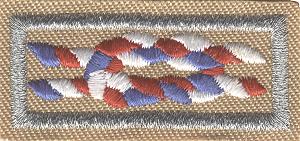 ---
In addition to the Square knot patch shown above, Eagle Scouts, of course, receive the medal and ribbon, shown below, and youth members wear the oval Patch on the uniforms.. Recipients of Eagle Palms wear them on the ribbon or patch, similar to what is shown on the knots, above.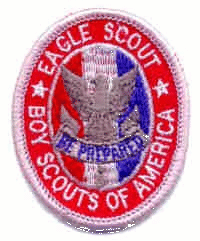 ---
Credits: Our thanks to Mike Walton for the original scans of the palms and their placement,
to Neil Lupton for the scan of the Distinguished Eagle Scout Pin,
and to James Eager for the scan of the NESA Life Member version of the knot.
---
Page updated on: February 03, 2019
---