Silver Antelope Award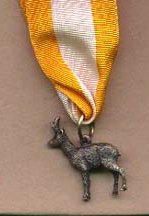 ---
The Silver Antelope Award is presented upon action of the Regional Executive Board of one of the BSA's four Regions for service to youth within the Region or for outstanding longtime service to youth by a registered Scouter residing within that Region.
Candidates for this award must be nominated. Self-nomination disqualifies the candidate.
Click Here for a copy of the application form.
---

This is the old Silver Antelope knot designed for the older khaki-green uniform.
---
Credits: Knot scan and text from Mike Walton
---
Page updated on: May 23, 2014
---